Town and Parish Council Websites
We have developed a Drupal website pattern that is specifically designed, supported and costed for Town and Parish Councils. These Tier 3 Councils (T3 Councils) have specific requirements and constraints that fall outside most website solutions.
Larger authorities in Local Government (Tier 1 and Tier 2) are well catered for by commercial developers and, in particular, by the LocalGov Drupal open-source initiative. However, Tier 3 Councils have a number of constraints that make taking advantage of these difficult:
A Tier 3 Council does not have full time IT or digital resources. Any solution must be supported, but also be light touch in terms of expertise required.
Tier 3 Council staff are stretched as it is, any solution must make life easier not just better.
Funding for Tier 3 Councils is stretched and so any solution must fit a tight budget.
Despite the preceding points, Tier 3 Councils must meet the same standards for accessibility and content transparency that all Government activity is required to do.
The Solution
We used our decades of website development experience and the coincidence that our Managing Director's wife is a busy Parish Clerk to build a website pattern that can be used by any similar Tier 3 Council.
Built using Drupal which is open-source and avoids proprietary software and maintenance costs. Drupal also has a strong reputation for building Government services around the world.
Templated using the Government Design System (GDS). The GDS is one of the most researched user interfaces in the world and is under constant development and review. The UK Government have created the GDS to offer superior, consistent accessibility and user experience for users of UK Government services. The GDS is not only comprehensive, it is also free and so we saw little point in using anything else.
Content slice approach to make creating unique content with GDS components as easy as possible for a busy Clerk.
Information architecture (IA) to work specifically for Tier 3 Councils. Grouping information and automating how it should be displayed reduces the burden of site management whilst also making access to it more logical and consistent for service users.
Automated posting of specific content on social media channels. Clerks have the option to automatically post announcements, meeting notification etc to their social media channels through a third party posting service service.
Support and quarterly updates to maintain consistency with software releases, and releases of the GDS.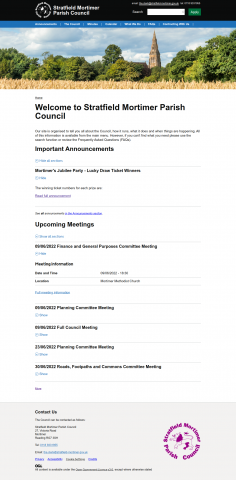 Stratfield-Mortimer Parish Council
The original Tier 3 Council to work with us on the design pattern was Stratfield-Mortimer Parish Council (SMPC). We originally did a small pro-bono project to develop a specification for the Council to put out to tender. However, based upon the quality and price of the responses, we were also then asked to submit a tender of our own.
Within our tender we included a day's workshop to facilitate detailed requirements capture and build a website plan document including, for the first time, an information architecture. This highlighted, in particular, that a simple meeting generated a lot of content that was not related on most council sites.
Within the pattern we created a specific content type for meetings which stores group, date, time, venue, agenda, attendees, supporting documents and, finally minutes. Having all of this data related properly we were able to automate its display in different parts of the site and use it to trigger automated actions to make the Clerk's life easier.
Feedback on the site has been extremely positive from the public, contractors and the Clerk and team. Even the auditor felt it necessary to compliment the Clerk on how easy it was to find what she needed prior to audit!
See for yourself: https://www.stratfield-mortimer.gov.uk/
Budget Requirements
As you will see from the rest of this website, we operate on a boutique basis with our clients rather than a bulk one-size-fits-all approach. However, even with this type of personal approach we've made our design pattern very cost effective.
The actual budget required will vary dependent upon the amount of material required to move, and this is probably proportional to the council's precept budget. For a Tier 3 Council with no resources to participate in the initial build of the site and with up to £250K precept we would estimate the following:
Template design: £0 (free, as we have based it upon the GDS)
Content build costs: £1,500 - £3,000
Hosting: £300 p.a. (green hosting powered entirely by renewables)
Training, support and GDS Development: Up to £1,000 p.a.
Development
We will continue to develop the pattern, particularly as additional Tier 3 Councils take it up and add different requirements into the mix. Any new developments will be shared with all of the client Councils via their support process.
We connect all of our council client Clerks and Chairs so that they can share experience and develop joint requirements. This also helps share and reduce costs. Why develop solutions for shared requirements alone?
Open Source?
The ultimate aim for our work here is to refine the pattern so that it can be released as an open-source distribution of Drupal similar to LocalGov Drupal. When we achieve that, Councils using the pattern will have the flexibility to have development on it done by any competent individual or organisation.
Using and open-source platform like Drupal with the GDS in an open-source design pattern is the best way for smaller councils to reduce costs and improve service.
Get in Touch
Please us the form below to get in touch if you would like: a demonstration; to discuss your specific requirements; or to get a copy of the design document from which the pattern has been created.
Let Us Get In Touch With You